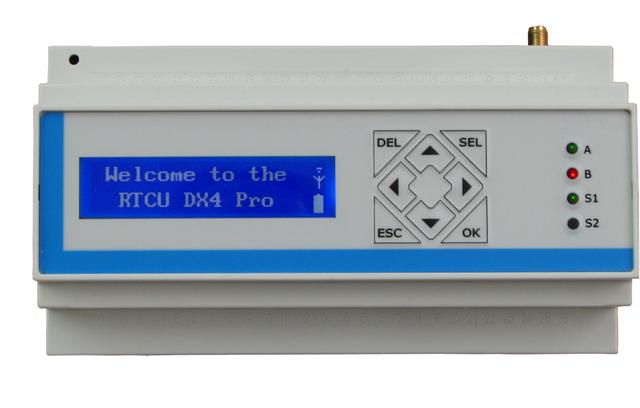 RTCU DX4 pro released!
The RTCU DX4 pro is an exciting new telemetry product based on the well proven and popular X32-platform also used in the MX2i Series.

The RTCU DX4 pro has been designed ground up for professional wireless industrial applications with its strong on-board I/O capabilities and multiple communication interfaces such as:
CAN bus, 1-Wire, USB, RS232 and dual RS485 channels. The on-board I/O capabilities can be expanded almost indefinitely and completely transparent by adding external MODBUS compatible I/O modules.
The RTCU DX4 pro offers a long list of powerful and versatile features:
Based on the well proven X32-architecture (same as the MX2i Series).
100% software compatible with all current and past RTCU units!
Back-lit Graphical LCD display (144x32 pixels) with user defined character support.
Status panel showing battery/charger, GSM signal-strength and GPRS status.
Integrated fully programmable keyboard with 8 keys.
Quad Band GSM Engine for world-wide operation. External SMA connector.
Prepared for deployment of Gemalto embedded M2M SIM chip.
Supports all GSM features such as Voice/SMS/PDU/CSD/GPRS.
Interactive Voice Response System support (User defined messages/DTMF).
GPRS Class 10 with full GPRS Gateway Professional and VSMS support.
Standard SD-CARD reader with FAT32 compatible file-system. Up to 2 GB!
Internal 512 KB Flash-Drive with full FAT32 support.
Full CAN 2.0B controller with hardware filtering.
1-Wire bus for connecting devices such as ID-Button reader and Temperature sensor
USB ready (slave).
Programming port.
RS232 port with optional RS485 support (shared with programming port).
One RS232 port with all control signals available.
One dedicated RS485 for I/O extension or general purpose use.
Full MODBUS SLAVE support for SCADA integration or I/O slave module.
Full MODBUS MASTER support for easy I/O extension capability.
Transparent I/O extension using I/O Manager integrated into the RTCU IDE.
Remote I/O appears the same way as on-board I/O!
On board 8 Digital inputs, 8 digital outputs, 4 analog inputs and 4 analog outputs.
Up to four IEC62053-31 Class B (S0) compliant digital inputs.
Analog inputs supports 0..10V and 0..20 mA.
Two-part pluggable connectors for fast installation and maintenance.
On-board temperature sensor.
Piezo Buzzer for audible notification.
On-board battery charger with high-capacity battery pack.
Low temperature battery-charging down to -10 degrees Celsius.
Advanced power-management with power-down and wait-for-event modes
Wake-up on: Digital input, Timeout, GSM-, CAN-, RS485- or RS232-activity
Encapsulated in a M36 DIN-rail enclosure.
Highly expandable:
Bluetooth Smartantenna, VGA Camera module, Mobile Data Terminal,
WiFi and Ethernet.
Fully supported by the powerful RTCU IDE development environment.
CE approval according to EU EMC Directive 2004/108/EU.
For more information on the RTCU DX4 pro product, including Datasheet and Technical Manual, please visit the product link here.

To expand the I/O capability of the RTCU DX4 pro almost any MODBUS compatible I/O modules can be connected to the product configured using the I/O Expansion configuration functionality available in the new and powerful RTCU IDE v5.00.

Logic IO is initially offering the following well tested MODBUS I/O modules that can easily be connected to the RTCU DX4 pro product: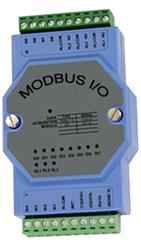 8 channel Analog Input module.
Resolution of 12 Bit with several ranges of voltage/current.
8 channel Analog Input module.
16 Bit resolution with several ranges of voltage/current.
Includes support for thermocouple and open loop detection.
4 channel Analog Output module.
12 Bit resolution with voltage/current support.
14 channel Digital Input module. Fully isolated.
8 channel Digital Input / 7 Digital Output module.
Open collector digital output. Non-isolated.
4 channel Digital Input / 5 channel relay Digital Output module.
Contact rating for relay Output are 5A/250VAC. Fully isolated Digital Output.

Datasheet and Technical documentation for the above MODBUS I/O modules will be available soon on www.logicio.com.

For pricing or other information please contact your Distributor or Logic IO directly.