Dear RTCU User,

Welcome to this late-summer edition of the Logic IO Newsletter.
We have several exciting news in this release, including the brand new RTCU DX4 eco!

With the release of the DX4 eco, and the already successful RTCU DX4 pro, we have completed the transition from the 'old-timer' RTCU D4, which has been on the market for more than 7 years now!
Practically this means, that the RTCU D4 is now announced with Last Time Buy, and the RTCU D4 Control is no longer available. The RTCU DX4 Series is so much a better, more flexible, and cheaper alternative, that it makes little sense to continue with the RTCU D4 on the market!

There is more excitement in this Newsletter, including upgrade of the already powerful GPS receiver in the MX2i Series to a 50-channels high-performance receiver! Also there are new and important releases of the GPRS Gateway Professional and GPRS Upgrade & Deployment Server.


Please read all the details below...


Best regards,


The Logic IO Team

---
RTCU DX4 eco!
The RTCU DX4 eco is designed for a broad range of advanced wireless monitoring, control and remote access applications which requires a product based on the most versatile and powerful platform available on the market today.
The RTCU DX4 eco is based on the powerful RTCU DX4 pro, but offers a reduced feature set to balance perfectly between low-cost and advanced features. The DX4 eco maintains the same I/O capabilities, including expandable I/O's, as the RTCU DX4 pro, and also offers support for a M2M chip solution instead of a traditional SIM-card!

The DX4 eco has been designed ground up for professional wireless industrial applications with its strong on-board I/O capabilities and multiple communication interfaces such as: 1-Wire, RS232 and dual RS485 channels. The on-board I/O system can be expanded almost indefinitely and completely transparent by adding external Modbus compatible I/O modules! This unique I/O expansion capability, combined with the possibility to operate as a Modbus master and slave simultaneously, positions the RTCU DX4 eco as the perfect product for SCADA-like applications.

The RTCU DX4 eco offers many other sophisticated features such as: A 512 Kbyte internal flash drive with a FAT32 compatible file-system for easy sharing of files locally and remotely with a PC/Server.

The RTCU DX4 eco is based on the well proven RTCU X32-architecture sharing powerful features such as: SMS/PDU messages, optimized host implemented TCP/IP stack with full support the Logic IO Gateway concept. Using the Logic IO VSMS (Virtual SMS) technology SMS, GPRS and CSD (Datacall) merges together allowing any RTCU application that uses the VSMS-messages paradigm to transparently send / receive messages using either SMS, GPRS or CSD (Datacall) without any changes to the software already developed.


The RTCU DX4 eco is of course fully programmable using the user-friendly Integrated Development Environment (RTCU IDE) running under Windows. In the environment the complete application is developed, simulated and finally transferred to the unit via a standard serial port or remotely using GPRS or CSD (Datacall).


The impressive RTCU DX4 eco feature-list includes:
Based on the well proven X32-architecture (same as the MX2i Series).
100% software compatible with all current and past RTCU units!
Quad Band GSM Engine for world-wide operation. External SMA connector.
Prepared for deployment of Gemalto embedded M2M SIM chip.
Supports GSM features such as SMS/PDU/CSD/GPRS.
GPRS Class 10 with full GPRS Gateway Professional and VSMS support.
Internal 512 KB Flash-Drive with full FAT32 support.
1-Wire for connecting devices such as ID-Button reader and Temperature sensor
Programming port.
One dedicated RS485 for I/O extension or general purpose use.
Optional RS485 support (shared with programming port).
Full MODBUS SLAVE support for SCADA integration or I/O slave module.
Full MODBUS MASTER support for easy I/O extension capability.
Transparent I/O extension using I/O Manager integrated into the RTCU IDE.
On board 8 Digital inputs, 8 digital outputs, 4 analog inputs and 4 analog outputs.
Up to four IEC62053-31 Class B (S0) compliant digital inputs.
Analog inputs supports 0..10V and 0..20 mA.
Two-part pluggable connectors for fast installation and maintenance.
On-board temperature sensor.
On-board battery charger prepared for optional high-capacity battery pack.
Advanced power-management with power-down and wait-for-event modes
Wake-up on: Digital input, Timeout, GSM-, CAN-, RS485- or RS232-activity
Encapsulated in a M36 DIN-rail enclosure.
Fully supported by the powerful RTCU IDE development environment.
CE approval according to EU EMC Directive 2004/108/EU.

....many other advanced features.

Please read the RTCU DX4 eco Datasheet and Technical Manual.


The RTCU DX4 eco is available NOW!
---
RTCU MX2i Series - High Performance 50-channels GPS-receiver!

The MX2i Series (except the RTCU MX2i eco) is now as standard delivered with a High Performance and Low-Power 50-channels GPS receiver!
This is the latest state-of-the-art uBlox Antaris-5 chipset featuring SuperSense® Indoor GPS technology that offers unmatched tracking performance in harsh signal environments such as parking lots and dense urban environments.

This upgrade is completely transparent to the application, and the only difference is the improved performance!

The new 50-channels GPS receiver is already now being delivered as standard on our RTCU MX2i eco+ and RTCU MX2i pro products.
---
GPRS Upgrade & Deployment Server V2.10

This release of the GPRS Upgrade & Deployment Server V2.10 represents a major leap forward in the history of this product.

Central parts of the UDS Engine have been rewritten with the clear goal of upgrading the product to be fully 64-bit compliant, but also to make the move to the next level in terms of performance and greatly enhanced stability.


The improvements are:
Enhancements:
Core engine completely rewritten for higher performance and enhanced stability.
Full support for 64-bits Microsoft Windows, such as the new Server 2008.
Full Vista UAC compliant.
Wise Installer used for easy and safe installation.
+ other minor enhancements.
Bug fixes:
Long file-names were not always shown correctly in the Monitor tool.
Cases of corruption in application-name/version in Monitor tool.
'Force upgrade' of unit could crash the Monitor tool.
Initial loading of log file could crash the Monitor tool
When no firmware was available the Control Panel would hang.
Cases of 'Incompatible firmware' after successful upgrade of unit.
Cases of incorrect 'Version mismatch' after successful upgrade of unit.
Interrupted transfers could restart transfer for no reason.
Unit status could be finished (green) even though the update has not yet started.
Application name gives 'Version mismatch' due to case sensitivity.
Version field of application profile allowed incorrect input.
+ other minor Bug Fixes.

Upgrade is highly recommended!

Please download this new version from www.logicio.com
---
GPRS Gateway Professional V1.20
This is a major release of the GPRS Gateway Professional, with exciting news such as an advanced in-build Time Service allowing the connected clients to stay synchronized with a centralized time source. Also this release allows up to 25 free clients!


The improvements are:
Enhancements:
Time Service allowing clients to synchronize the time to the gateway centralized time.
Local and UTC time can be requested. (Requires coming firmware 1.50 or later)
Number of free clients increased to 25.
Full support for 64-bits Microsoft Windows, such as the new Server 2008.
Full Vista UAC compliant.
Wise Installer used for easy and safe installation.
New RACP2 commands included in Message Log.
+ other minor enhancements.
Bug fixes:
Rare cases of crash when clearing the log in the Monitor tool fixed.
The 'Flags' field were sometimes much to wide.
+ other minor Bug Fixes.

Upgrade is recommended!
Please download this new version from www.logicio.com
---
Garmin Fleet Management / Navigation Products

The Garmin Fleet Management / Navigation API supports implementation of advanced fleet management applications integrating Navigation, Two-way messaging, Driver identification and Job dispatch capabilities. The Job dispatch functionality includes advanced features such as support for routes with multiple stops, route optimization and periodic Estimated Time of Arrival (ETA) notifications.

The illustration below shows the system architecture with the various components constituting a complete Fleet Management Solution:


The MX2i Pro/Pro+ can be connected to certain navigation devices from Garmin allowing the development of highly advanced Fleet Management, Messaging and Navigation applications.
The Garmin Navigation devices currently supported includes:
Garmin Nüvi 700 Series
Garmin Nüvi 7x5 Series
Garmin Nüvi 800 Series
Garmin Nüvi 5000 Series
To connect the RTCU MX2i Pro/Pro+ to the Garmin Navigation device a special interface cable is required. It is also possible to connect the Garmin device to the RTCU IDE Simulator allowing development of complete Fleet Management applications within the RTCU IDE environment.

Logic IO is offering interface cables as well as Garmin Navigation devices constituting a complete solution. Currently we are offering the Garmin Nüvi 5000 (Europe) and a complete MX2i FMI Starter kit with everything to get started on the development of applications.



For detailed information about the Garmin Fleet Management / Navigation API please consult the RTCU IDE (V5.10 or later) on-line help or manual.

---
Enfora SA-G+ GSM/GPRS Modem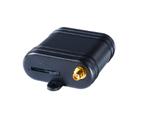 The Enfora SA-G+ modem is a certified quad-band integrated platform, that enables simple integration through a standard RS232 serial connection. Small compact modem with functions such as GPRS, data calls (CSD), speech and SMS. External SIM-card holder w. lock. Supply for 6-40VDC.
Connect PLC's, PC's and other industrial devices.


---
Advanced AVL Tester for the MX2i and M11i Series

The AVL Tester represents a versatile instrument for all the professionals involved in the AVL business including software developers, service engineers and sales agents, because it offers the most realistic Control Unit (MX2 and M11 family) operating scenario - second only to the vehicle itself! Together with the RTCU IDE, it becomes a precious tool for the developer. The AVL Tester is a friendly user instrument adapted for the electrical repair shop for cars, where it can replace the RTCU-IDE platform.

Delivered in a practical suit-case complete with power-supply and all necessary cables.
Please read the product datasheet for more information.